OVERVIEW
It is consisted with gantry frame (main girder, legs, bottom end beams), lifting mechanism, travelling mechanism, and electrical control.
It is used with matching CD1 or MD1 electric hoist, and is a light small crane with rail travelling.
Widely used in workshop, storage, port and hydroelectric power station and some other outdoor places, where it has a low frequency or few lifting times.
It is forbidden to be used with melt metal, inflammable, or explosive objects.
It can be designed with one hanging arm or no-hanging arm according to client's demand.
parameters
Lifting Capacity
t
5
10
16
20
Span
m
12
16
20
24
12
16
20
24
30
12
16
20
24
30
12
16
20
24
30
Lifting Height
m
6
9
6
9
6
9
6
9
6
9
6
9
6
9
6
9
6
9
6
9
6
9
6
9
6
9
6
9
6
9
6
9
6
9
6
9
6
9
Travelling
Mechanism
Travelling
Speed
By Hand Controller
m
/min
20
In Cabin
20/30
20/30
20/30
20/30
Motor
By Hand Controller
YSE802-4/0.8*2
YSE90L-4/1.5*2
YSE90L-4/1.5*2
YZR132M2-6/4*2
YZR160M1-6/6.3*2
YZR160M1-6/6.3*2
YZR160M2-6/8.5*2
In Cabin
ZDR100-4/1.5*2
ZDR112L-4/2.1*2
ZDR112L1-4/2.1*2
YZR132M2-6/4*2
Gear Box
LD-Drived
ZSC600
ZSC600
Wheel Diameter
mm
Φ270
Φ400
Φ600
Φ500
Φ600
Φ600
Lifting
Mechanism
Type
CD1,MD1
CD1
HC
Lifting Speed
m
/min
8,8/0.8
7, 7/0.7
3.5
Travelling Speed
20
Motor
Lifting
ZD141-4/7.5  ZDS10.8/7.5
ZD151-4/13  ZDS11.5/13
ZD151-4/13
ZD152-4/18.5
Travelling
ZDY21-4/0.8
ZDY121-4/0.8*2
ZDY121-4/0.8*2
ZDY121-4/0.8*4
Working Duty
A3
Steel Track Recommended
P24
P38
P43
Power Supply
3Phase,AC 380V 50Hz
3Phase,AC 380V 50Hz
3Phase,AC 380V 50Hz
3Phase,AC 380V 50Hz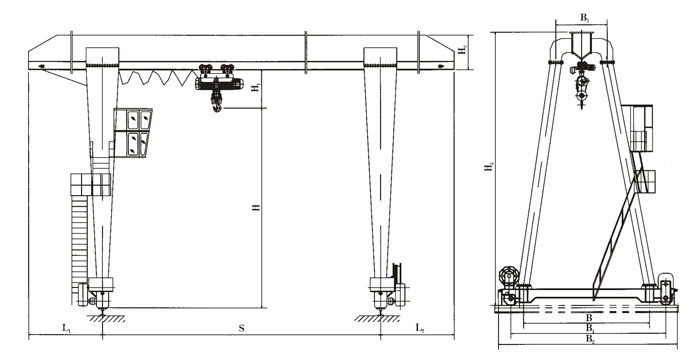 FEATURES
Simple structure; installation, use, and maintenance are all convenient.
Parts standardization, generalization and seriation
Good in usability and produce conveniently